EU-Bahrain Conference on Freedom of Religion and Belief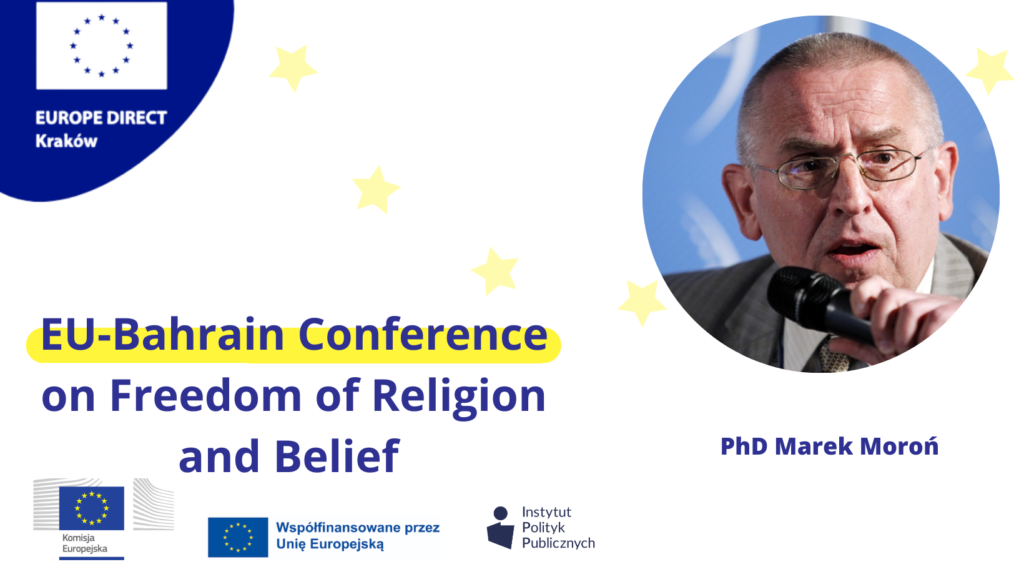 PhD Marek Moroń – Polish lecturer, advisor, diplomat. Former Consul General of the Republic of Poland in Mumbai. South Asian specialist. Academic lecturer at the Centre for Comparative Studies of Civilisations, Jagiellonian University, member of the Muslim Religious Union of Poland (est.1925).
On May 2-4, 2023, the second edition of the "EU-Bahrain Conference on Freedom of Religion and Belief" took place in Manama. What were the main ideas of the Conference? How was all this initiated?
The European Union and the Kingdom of Bahrain have engaged in dialogue on freedom of religion within the space of the "EU- GCC political dialogue, cooperation and outreach" project. The organizing partners were the King Hamad Global Centre for Peaceful Coexistence and the European Parliament Intergroup on Freedom of Religion, Belief and Interreligious Dialogue. Bahrain has a long tradition of many religious communities, Christians, Muslims, Jews etc. living together. I lived in Bahrain for one year in 1993 and can only confirm that communal harmony was not only the everyday practice of the people, but it was an element of the policy of the authorities. At that time in 1993, Emir Isa bin Salman al-Khalifa father of the present King. It is to be noted that King Hamad bin Isa al-Khalifa not only continues the policy of his father but does so in partnership and dialogue with European Union.
Representatives of which institutions and religions participated in the Conference? What were the topics discussed?
 The conference was attended by EU diplomats, diplomats from many countries of the EU, Members of the European Parliament, ministers of the Bahraini government, leaders of religious communities from the EU and Bahrain, academicians, and human rights activists. But perhaps the most valuable participants were young people from most EU countries (40 people) and students, pupils in great number both girls and boys from Bahraini schools and universities. It was the informal interaction of people of these groups representing different countries and walks of life that gave the Conference additional substance. There were no young people from Poland. This I consider as a motivation for me to promote knowledge about the event in Manama and, more important, to encourage young people, students in my environment, to take interest and engage more in the EU framework of dialogue relations with religious communities i.a. in Asia.
 What is the role of European Islam in the debate on freedom of religion and belief?
In my statements at the Conference, I emphasized the value of introducing the idea of "cultural circles" of particular religions in the interreligious dialogue. Thus, avoiding creating the impression that religions like Islam or Christianity are monoliths. In this context I consider it important to promote the term "European Islam"; representing the 600 years old Islam of Central and South Europe's Muslims who do not have to integrate with anything in our continent because they have always been Europeans. This European Islam is not any kind of different Islam but Islam with the cultural face of European traditions.
The point of my statements was that Islam cannot be identified with only one cultural circle and European Islam being part of the European cultural history and traditions may be seen as an important actor in the dialogue on freedom of religions. 
How did the Conference build potential for further interreligious and intercultural dialogue development? What is this discussion platform for? What problems does it answer?
The subjects debated at the conference were divided into three groups: "Broadening the Tent" – i.e., the majority-minority issues also in the context of religion, the impact of climate change on freedom of religion; this included the problems of migration, human dignity, and environmental protection and third group, the whole spectrum of issues linked to cyberspace activities, hazards, and opportunities. The Conference, in my opinion, was organized first of all for the young people because they are the future. We are all being fed by the quasi-ideologies of doom, hate, clash, and conflict. Religions in that narration play an important role especially pitting Christianity against Islam. Emphasizing the existing spaces of coexistence and making space for different religions in our environment is and will be a meaningful contribution of young people to counter the hate rooted in ignorance. The Conference, in my opinion, presented the answer to the question of why hate, intolerance and religious (and ethnic) conflicts are ever present in our world. It is ignorance. Moreover, this ignorance is an effective instrument in the hands of various groups, political elites and sometimes governments, in creating emotions of evil and mobilization of ignorant masses against the "enemy" created for political (power) and business (money) reasons.
Why is it important to be knowledgeable about different religions? Why it's essential to educate especially young people on this subject? Can it be dangerous to raise awareness about other faiths among youth?
The key indication following our debate in Manama is to promote the knowledge-oriented way of exposure to other religions. Another word giving information not in a proselytizing and propaganda manner but with the intention to present issues without commenting. If the young generation will not receive wide knowledge (not persuasion) about different religions, they will be prone to emotions of evil and political mobilization drawing them into nationalism, enemy seeking and hateful ideologies. Indeed, there was a question during the conference if such a knowledge-oriented presentation of other creeds bears a risk of the individual turning his spirituality towards that new shown to him path. Yes, there is. But I would not call it a danger. If we use that term, we seem to equal the "other" with "danger" and of course, this is not what we mean. In fact, as I have mentioned during the Conference debate, I am an example of such a case. Before starting my high school education in Dhaka (a Christian school conducted by Brothers of Holy Cross from California) all the students were to declare if they want to attend Christian or Islamic classes of religion. I declared participation in both. This certainly contributed meaningfully to my joining the Muslim ummah, without any decrease of respect for Christianity and its followers.
Thank you for this opportunity to speak about the Conference in Manama held on 2-4 May 2023
Interviewer: Bartłomiej Małczyński – EU specialist in EUROPE DIRECT Krakow Centre, a substantive associate at the Institute of Public Policies. Student at the Centre for Comparative Studies of Civilisations, Jagiellonian University.